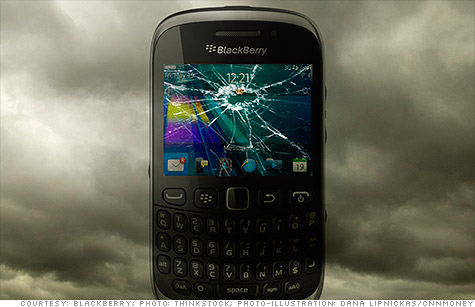 Is this the end of the road for Research in Motion and the once-loved "CrackBerry"?
The company's BlackBerry 10 operating system -- meant to be the linchpin of RIM's turnaround -- won't hit the market until the first quarter of 2013.
The news is so concerning that some critics don't think the company will even survive long enough to launch the OS.
CEO Thorsten Heins was somber on a post-earnings conference call Thursday, saying that developers have been making progress on BlackBerry 10 but implementation is "more challenging than anticipated."
Critics think that delay may be fatal. Brian White, an IT hardware analyst at Topeka Capital Markets, wrote in a report that it "may leave the company so vulnerable that the new platform may never see the light of day."
Amid the delays, RIM's device shipments are declining rapidly. Smartphone shipments fell 41% over the year to 7.8 million last quarter. And the company shipped a paltry 260,000 PlayBook tablets.
On the smartphone front, National Bank Financial analyst Kris Thompson wrote in a report that "investors should expect shipments to spiral downward unless the handsets are donations."
Oof.
Thompson praised management for "taking meaningful restructuring actions" -- namely, the 5,000 job cuts and its consideration of other "strategic" moves like putting the company on the block.
A total overhaul will certainly be a difficult task for Heins, a RIM insider who succeeded co-CEOs Mike Lazaridis and Jim Balsillie. He inherited a laundry list of problems, which seems only to be growing.
But despite RIM's many issues, the company still has 78 million subscribers and $2.2 billion in cash on hand. So you won't wake up in the next few months and suddenly find that your BlackBerry has become merely a fancy paperweight.